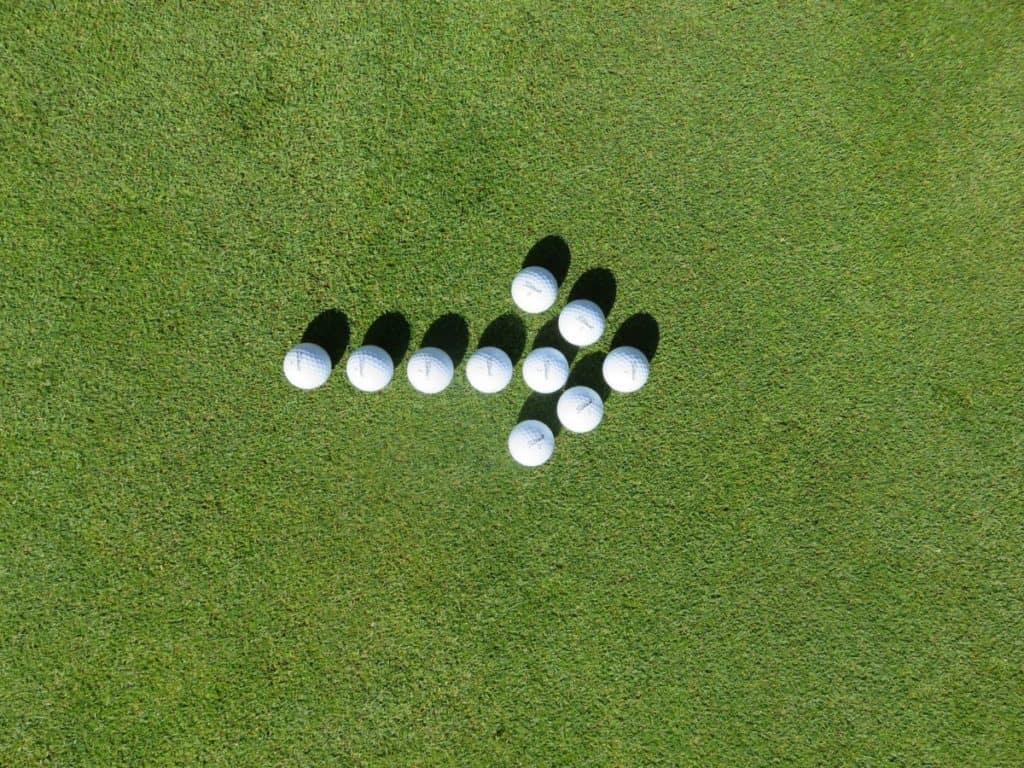 Your time on the golf course doesn't have to be frustrating because you lose your expensive balls almost every time you play the game. There are golf balls with excellent aerodynamics, low spin, and great shot accuracy. They also do not cost a premium, and most are available for under $30. 
The best golf ball under $30 that satisfies optics, control, feel, and accuracy is the Titleist Velocity Golf Ball. This golf ball has remarkable aerodynamics that minimizes drive spin, a large core that ensures enhanced speed, and many more features, as you'll see later in this review.
Buying the right golf ball cannot be overemphasized as it is an integral part of what determines your success on the greens. To help you make a more informed buying decision, we've rounded up some of the best golf balls under $30.
This feature gives it the stability it requires to provide as little spin as possible. Low spin, in turn, allows the ball to travel longer distances on the green. Also, this size allows for just enough spin to provide better iron stability.
The Titleist Velocity golf ball's recommended aerodynamics is supported by the 350 octahedral dimple pattern covering its sphere. It gives the ball a high flight in a full swing shot and a consistent movement for long distances.
Its playability, demonstrated by the ball's feel against a clubhead, is possible because it features the Fast NaZ+ that enhances its speed.
Titleist Velocity golf balls are available in three matte colors: pink, green, and orange. It is also available in the traditional white color.
Specs
Core: High-Speed LSX
Cover: Fast NaZ+
Construction: 2-piece
Pattern: Octahedral Dimple.
Color: Matte Pink, Matte Green, Matte Orange, and White
The most endearing feature of the Callaway Supersoft Golf Balls is its HEX covering that provides excellent aerodynamics. The HEX covering is why this golf ball can travel long distances and maintain a straighter path than most golf balls.
It also helps to reduce drag and simultaneously improve its lift. So, when you make a shot, the ball flies higher, straighter, and faster, giving you a more accurate shot.
It has excellent optics as it is available in different colors, including white, yellow, matte green, matte orange, matte red, and matte pink. These colors make it almost impossible to lose the ball on the golf course.
Its core has ultra-low compression, a feature that makes it travel fast. This feature, in combination with the HEX cover, reduces drag and provides low spin.
The trademark name "Supersoft" results from the Trionomer cover that makes it feel softer than most balls and gives your shots more accuracy on the greens.
Specs
Core: Ultra-low Compression
Cover: Advanced Trionomer
Construction: 2-Piece
Pattern: HEX Dimple
Color: Matte Pink, Matte Green, Matte Orange, Matte Red, Yellow, and White
The Vice Tour golf ball is made of the 3-piece DuPont Surlyn ball construction, making it cut-resistant and extremely durable. This design ensures durability, but it also aids in the ball's speed, allowing low spin, and helps your shot travel long distances. Because of this feature, it is more suitable for medium to long-distance shooters. 
The 3-Piece design also gives you a solid feel, providing you with that added assurance that the ball will go where it's directed.
There is a black line on the Vice Tour ball that helps "Keep In Line." The KIL feature gives a putter more optical alignment when addressing the ball on the green.
The ball possesses excellent aerodynamics due to its dimple patterns. The 392 dimple patterns help the ball to maintain a stable and constant travel trajectory and allows minimum deviation from its travel path. This feature also gives you more accurate and faster shots.
Specs
Core: Energy Speed Core (ESC)
Cover: DuPont Surlyn
Construction: 3-piece
Pattern: Dimple
Color: White
The intelligence of the Wilson Smart is noticeable when you aim for long-distances and follow it up with short distance shots. It reacts with your swing speed to yield the desired result.
For short shots, the ball creates spin and controls itself towards the direction it is hit. However, on a long shot, it eliminates as much spin as possible, so it can travel more distance and make your shot more accurate.
The cover of the Wilson Smart is made of 2-layer Ionomer, making it a durable golf ball choice. With all these features, you can be sure your smart golf ball will remain functional and of good quality in different conditions.
Specs
Core: Smart Core
Cover: Ionomer
Construction: 2-piece
Pattern: Dimple
Color: White
Its cover is made with premium urethane, coated in Spinskin and Slide Ring Material (SeRM). These cover materials help the ball attain an impressive spin on the green for short-distance shots.
The urethane cover's elastic nature gives you more control of your shots due to the increased friction around your wedges and iron grooves.
The softness that creates a spin on shots may lead you to think this ball will not perform well on long shots, but you'll be surprised.
Its core is made with FastLayer, which enhances long-distance shots off the tee. This core comprises thousands of layers, compressed to form a solid and firm core that gives you enough speed and less spin than you'd experience with short shots.
Aerodynamics is taken care of by the 338 Speed Dimple Pattern Optimal dimple pattern on the cover.
This dimple pattern ensures that your ball experiences low drags and side spins when used for long-distance shots. It also ensures the ball travels straight, giving you greater shot accuracy.
With the Srixon Q-Star Tour 2 Golf Ball, you will experience amazing long-distance shots with less drag and side spin and the not so familiar soft feel of traditional tour golf balls.
Specs
Core: FastLayer
Cover: Tour Urethane Cover
Construction: 3-piece
Pattern: Speed Dimple
Color: White
When you think of Callaway Warbird, you think of a strong distance ball. The ball is designed to cover great distances with its high energy core that allows it to react with your swing speed. The large size and high-energy of the core give you a long distance off the tee.
Note that you need an outstanding swing speed to reach the desired distance to propel your core and carry the ball through the path.
You will experience increased speed and distance with Callaway's HEX Aerodynamics Technology, powered by a 2-Piece cover and Dimple Pattern that does not allow drag and spin. It also ensures your shots are faster and more accurate.
Its cover material is Ionomer, ensuring durability and a great solid feel off the club.
Specs
Core: High Energy
Cover: Ionomer
Construction: 2-piece
Pattern: HEX Dimple
Color: Yellow and White
This feature makes it suited to players with slow swing speed who need the extra distance boost.
The Mizuno RB 566V Golf Ball is a 3-piece golf ball, with improvement over previous 2-Piece construction balls. This construction increases the ball's take-off velocity off the tee.
It has a rubber layer that wraps around its soft compression core, and on the outer part is the Ionomer cover finishing that bears the dimple pattern.
The RB 566V has better-improved aerodynamics due to the outer finishing that has micro-dimples in the dimples. If counted, you'll find them to be 566, hence, the name Mizuno RB 566V.
The dimples and micro dimples help resist wind pressure and allow the ball to travel longer distances by reducing drag.
Specs
Core: Soft Compression
Cover: Ionomer
Construction: 3-Piece
Pattern: 566 Micro-dimple design
Color: White
It has a high energy core that translates your swing speed into longer distance traveled by the ball. The core aids the ball's speed, which allows its passage through the wind easier by resisting the wind's pull.
Its cover material also contributes to the excellent performance of the golf ball. The ball is made of Ionomer, a material known to promote durability and reduce drag and ball spin.
The spin reduction leads to increased travel distance, and it is aided by the dimple pattern on the outer cover of the ball.
The dimple pattern also has an added function of reducing slices and hooks. It also reduces side spin and drags, which is essential in enhancing the ball's aerodynamics. All these features help to ensure greater shot accuracy.
Specs
Core: High Energy Core
Cover: Ionomer
Construction: 2-Piece
Pattern: Dimple
Color: White
From the name, it's easy to tell that this golf ball is one for high handicappers. The Nitro Ultimate is one of the golf balls suitable for long-distance targets. Its core, cover, and pattern that dictates its aerodynamic prowess deliver an improved result.
The Nitro Ultimate's cover is made of Dupont Lithium Surlyn, a cut-resistant material and announces durability when mentioned. This cover material assures you of good value for your money as the ball will serve you for longer.
It has a 2-Piece titanium core that accepts energy from the clubhead. This increased energy makes the ball accelerate off the tee and straight towards the target with little side spin and drags.
Nitro Ultimate's dimple patterns aid the ball's aerodynamics. This pattern design increases the ball's lift and decreases drag to allow for long-distance shots. The dimple pattern and the titanium cover influence the ball's feel on the clubhead.
This ball is a great asset as it is available in a highly-visible orange color to ensure you don't easily lose the ball. It has 15 units in its pack for under $30—great value for the price.
Specs
Core: Super Reactive Titanium
Cover: Dupont Lithium Surlyn
Construction: 2-Piece
Pattern: Symmetrical Dimple
Color: Orange
Its core is fitted with the 35 compression SoftFli that allows the ball usable on both the greens and the tee. In combination with the cover, the core provides a great feeling when the clubhead hits the ball.
It also helps the ball travel longer distances by minimizing drive spin and transferring energy from your swing to the ball.
Its Ionomer cover also contributes to its soft feel and ensures durability. The Ionomer also gives you better control over the greens as it gives you an adequate spin.
It also has dimple patterns on the cover that improves its aerodynamics. The pattern design is responsible for the ball's straight travel path, ensuring a more accurate shot.
The 332 dimple pattern is also responsible for translating your swing speed, with the aid of the core, into long-distance travel.
The Maxfli SoftFli Matte golf ball is available in bright and beautiful colors that make it easier to find the ball.
Its 2-Piece construction and other specifications conform to USGA rules, making them suitable for professional practice.
Specs
Core: 35 Compression SoftFli
Cover: Ionomer
Construction: 2-Piece
Pattern: Dimple
Color: Blue, Pink, Green, and Orange
The dual-distance core is a large double-layer system with a low compression inner core. The ball's inner core and outer core minimizes driver spin, increases ball speed, and gives the ball a soft feel that maintains velocity and discourages rebound.
Unlike the TaylorMade Project (A), which uses urethane as the cover material, this golf ball has an Ionomer cover, a material that encourages long-distance shots. Project (S) is a good fit for the greens and off the tees.
The Project (S) also sports the brand's high lift 342LDP dimple pattern on its outer cover, improving the ball's aerodynamics and reducing drag as the ball cuts through the air.
Project (S) golf balls come in a range of vibrant colors that make it difficult to lose sight of them on the greens. They are available in white, matte yellow, matte red, and matte orange. These matte-colored balls are more suitable for long distances.
Specs
Core: Double Layer Dual-Distance
Construction: 3-piece
Cover material: Ionomer
Pattern: High Lift 342LDP Dimple
Color: White, Matte Yellow, Matte Red, and Matte Orange
This golf ball is known for speed, as its name suggests. This remarkable speed is made possible by its Active Acceleration Mantle layer, one of the ball's three layers.
This layer is made of High-performance Polymer material that provides increased initial velocity for the ball and higher thrust. This feature makes this golf ball suitable for players with high swing speed.
Its aerodynamics is improved due to its pattern design. It features the brand's Delta Wing Dimple pattern on its outer cover.
This pattern design reduces drag, minimizes drive spin, and ensures smoother airflow. These features combine to improve the ball's straight distance properties and provide more accurate shots.
Specs
Core: Active Acceleration Mantle
Cover: Plastic
Construction: 3-piece
Pattern: Delta Wing Dimple
Color: White
What to Know Before Buying a Golf Ball
Being successful on a golf course goes beyond setting up your tee, placing your ball on it, and swinging your club to send it into the distance. There's a science, a technique, and a know-how that is needed.
If you want to be consistently successful on the course and earn the respect of other players, you should familiarize yourself with these know-hows. Below, we'll briefly go through some of the things you should know about golf balls before buying one.
What Makes up a Golf Ball?
You must have wondered at one point why only golf balls take off the way they do when hit with the club. Why don't other balls with similar properties do the same? Why can't other balls be used instead of golf balls? The answer is in the way golf balls are made.
A golf ball is made of three important parts, and these parts are instrumental to how it responds to the force it gets from your swing, the wind that rushes against it in its flight, and how it lands on the course. These parts are the core, the cover, and the dimple.
The Core
The core of a golf ball is the innermost part of the ball. It is the seat of power and what influences the initial velocity and spin rate of a ball. It also affects the compression of a ball.
The golf ball's compression refers to how it reacts to the pressure when struck by a golf club. A compression rating that exceeds 100 is suitable for golfers with really high swing speed, while a rating of 90 is better suited to players with slower swing speed.
The Cover
The cover follows the core. In most cases, the core is either made of urethane or Surlyn. Urethane covers are thinner and mostly preferred by professionals because it is easy to control.
Surlyn is more suitable for beginners due to its durability and ability to minimize spin. Generally, the cover influences the feel of the golf ball.
The Patterns
The patterns are the small indentations you see on the outer covering of the golf ball. They are present on the ball to reduce drag and ensure it travels straight along its trajectory.
Without these patterns, a golf ball will be unable to travel long distances. Different balls have different numbers of patterns, depending on their manufacturers and the type of ball.
What Is Ball Construction Type?
There are mainly two types of construction when it comes to golf balls: two-piece and three-piece constructions.
These constructions help determine what type of ball is suitable for a player according to their experience on the course.
Two-piece golf balls are made up of only two layers: the core and the cover. They are most suited to beginners and high-handicappers because they are thick and durable. This type of ball also addresses issues such as slices and hooks common in beginners' plays.
The three-piece golf balls are more suitable for professional golfers as they have more than two layers. They are sometimes called Multi-layer golf balls because they have other layers between the core and the cover. They have a better feel, lift, and control than the two-piece types.
Types of Golf Balls
There are different types of golf balls. We have looked at the anatomy and construction of golf balls. Now, let's consider the golf ball type that is right for you based on your experience.
Distance: This type of golf ball is multi-layered and used for aiming long-distance shots. Their multiple layers help to provide more control, feel, and lift. These features make them appropriate for intermediate and professional golfers.
Soft feel: Soft feel golf ball usually has low compression and offers a higher level of control. The low compression allows the ball to shape based on impact, reduce spin, and maintain a longer drive.
Tour performance: This type of golf ball is for mid-handicappers and low-handicappers. It is a multi-layer ball designed for enhanced control and feels due to its core, layer, and cover designs. The outer cover is usually thin to increase control spin further and improve feel.
As you must have seen by now, not all golf balls are the same. The difference is mostly based on the purpose, target player, or construction type of the ball.
However, you can use a golf ball different from other golfers with the same experience as you. You can do this by using either personalized golf balls or balls with high visibility.
Personalized golf balls have inscriptions of your choice on the ball.
High-visibility golf balls are golf balls that are hard to miss on the course. They have high optics due to their color. They can be in gloss or matte color.
Final Thoughts
You should enjoy golfing as a hobby without breaking the bank. It doesn't matter if you are a beginner, intermediate, or pro golfer.
While these balls may not be in the premium or high class used by advanced players, they have similar qualities to those that cost an arm and a leg and offer better value for money. 
When choosing a golf ball, consider its features such as the core material, cover material, and pattern design. You should also consider the construction type and design properties such as compression rating, number of layers, and level of spin.
Sources